iwoly vs. Dyson: Stick Vacuum Comparison
When it comes to picking the perfect stick vacuum, there are plenty of things to think about. What makes a good vacuum cleaner? What do I need to be looking for to get the best out of my stick vacuum? The list can be endless. Dyson have always reigned supreme when it comes to their stick vacuums. They're known as being one of the best makes in the world. Can a brand like iwoly even compete with that kind of notoriety? Let's find out. iwoly vs. Dyson: What Stick Vacuum to Pick?
Suction Power
Suction power goes hand in hand with your battery, but it also goes a lot further than that. Whether your home is full of carpets or hard floors, you want a stick vacuum that's got plenty of suction power, especially if there are pets who often shed their fur and dander roaming around your home.
Suction power is usually rated in Kilopascals (KPA), and the higher the KPA rating, the more suction power a vacuum cleaner has. A vacuum cleaner with a rating of 20KPA or higher is considered to have stronger, more powerful suction, so always look out for the KPA rating when you're comparing vacuum cleaners.
Dyson are known for keeping their KPA ratings under wraps on a lot of their vacuums, which can make it difficult to know exactly what you're getting. With their brand being well-known for their powerful suction though, you can rest assured you're getting a great KPA rating no matter which Dyson stick vacuum you choose.
iwoly are a little more transparent with their KPA ratings, and whilst they're not the most powerful stick vacuums on the market (and certainly not more powerful than a Dyson), they do give a pretty strong suction for their price bracket. In fact, they're perfect for both hard floors and low pile carpets, so if you're looking for a cheaper make and model, a iwoly vacuum would have yout back.
Extra Features
Of course, it's not all about battery life and suction power. These important assets go hand in hand with plenty of extra features that'll give you the best vacuum for your money.
Dyson V11 Torque Drive
Dyson are well known for having digital displays that accurately tell you how much battery life is left, and which mode you're on, and you'll get this across their stick vacuum range. With iwoly, you don't get the same additional extra. This isn't necessarily a bad thing; most vacuuming sessions last less than 30 minutes unless you're performing a deep clean, but it can be handy, and gives the vacuum that more luxurious feel.
Brushes are our last important extra feature to add, and both iwoly and Dyson have incredible brush sets included with their stick vacuums. You're more likely to get a wider range of brush heads to interchange based on where you're cleaning with a Dyson, where iwoly generally offer a main head and a few extra accessories, but both are equipped with brushes that work hard and offer a deep clean.
If you want unlimited runtime, get this corded stick vacuum, called the iwoly V600.
This red-and-orange stick vac is equipped with a 600-watt motor that provides strong, reliable performance. With its 16.4-foot power cord, you can vacuum without interruption.
Pushing 15,000 pascals of cyclonic suction pressure, this stick vacuum works like a beast on thick carpeting. A pleated HEPA filter is protected by a cleanable pre-filter, both of which are located inside the 0.5-liter dirt cup. To dump the cup's contents when full, a quick push and release of the bottom-door button is all it takes.
On the floor head, there is a pair of inset wheels that keep the stick vac steady on the floor. A bendable joint provides the swiveling action needed to vacuum around furniture. The 4.8-pound vacuum's floor head is thin enough to fit beneath beds and couches, and its curved window gives an unobstructed view of the all-purpose brushroll.
Need to clean your ceiling fan or door frames? The adjustable pole extends up to 28 inches, and you can connect the crevice tool or dusting brush to it. Without the floor nozzle attached, the V600 only weighs 3.3 pounds, so you won't struggle under its weight in handheld mode. iwoly also includes a wall bracket to hang the vacuum from when not in use.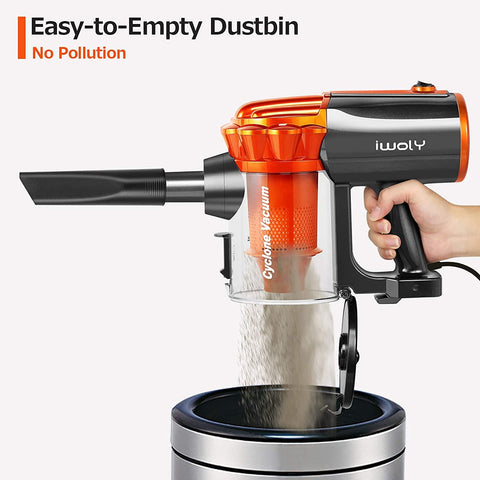 Conclusion
Overall, whilst Dyson leads the way with their innovative extras, there's no way that iwoly vacuums can't hold their own against these powerful competitors. They're less powerful overall, but for a fraction of the price of a Dyson, a iwoly is a great cleaning companion.